Do something
extraordinary
with East Suburban Citizen Advocacy
Testimonials:
If you would like to leave a testimonial, please email them to escadvocacy@gmail.com
"I have been more happy to help this agency out They deal with the hardest cases and try very hard to find a solution to every problem that is put in there lap"!–anonymous
"ESCA was a tremendous help to my daughter by getting her safe housing. Wonderful people".– anonymous
"ESCA is an organization that has the biggest heart when dealing with people from all walks of life. Their concern for the welfare of others is so heartfelt. I love each and every one of them"! — anonymous
Donating to ESCA
Donating to ESCA is simple and easy to do! You can donate in many ways, and they are all explained under the "How can I Help" section. Your donations help us keep advocacy FREE for individuals and helps us host many inclusive programs. We appreciate all donations.
ESCA News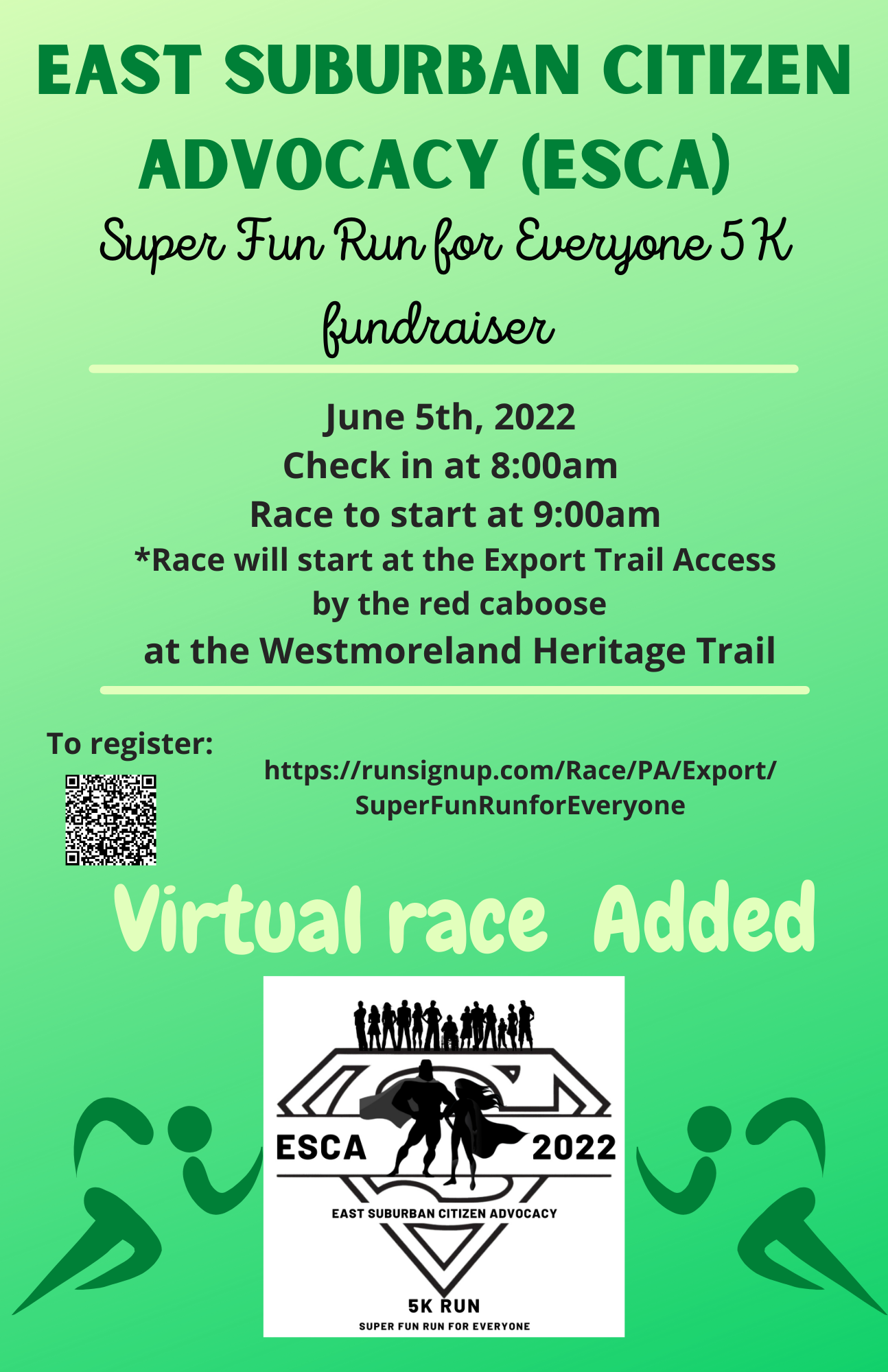 20 days left until the event! Please register now to secure your giveaways. Come out to our #SuperFunRunForEveryone2022 and enjoy great company, share your superpowers, bring a group, make new friends, […]
This concert is dear to our hearts as Adam was a great person that has left us too early. ESCA will receive a portion of the profits which will be […]
Franklin Regional School District April 5 at 1:20 PM (Post taken from Franklin Regional Facebook page) Thanks to the design efforts of Franklin Regional Junior, Emily Rose, East Suburban Citizen Advocacy will unveil a […]
Upcoming Events
At East Suburban Citizen Advocacy, we get together each Monday (except major holidays) to discuss our weekends, things going on in our lives, and make connections. It is FREE and […]
Tuesdays at 6:30pm at the Miracle Field for social and exercise weather permitting.  We do not walk if there is bad weather or if the weather is too hot and […]
At East Suburban Citizen Advocacy, we get together each Monday (except major holidays) to discuss our weekends, things going on in our lives, and make connections. It is FREE and […]